Buy-Sell-Trade
​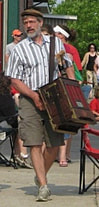 This page is offered as a
FREE
public forum for Buying, Selling, and Trading antique Mechanical Musical Instruments, Music, and Accessories. All ads are reviewed before posting. Please let us know if your advertised item has sold.
Click here to place a FREE ad.

​
​The Buy-Sell-Trade page was originally created by the late Todd Augsburger whose contributions to mechanical music were unprecedented. I'm honored to keep it available to the public in his memory. Todd's definitive book
"Roller Organs"
provides a wealth of information on the history, design and manufacture of the Autophone Company's Gem, Concert and Grand Roller Organs. He also created the
The Organette Music Repository
website which is dedicated to the enjoyment, study and preservation of the media (disks's, rolls, cob's, etc) produced for all makes of American & European Organette's & Roller Organ's.
PLEASE BE CAUTIOUS! Beware that scammers can respond to public ads! The responsibility for any transaction rests entirely on the buyer and seller.
Click on any of the photo's below for enlarged view.
WANTED:
Music rolls for 16 note Musette organette. Contact Daniel @
918-294-8482.
FOR SALE: Gem roller organ unrestored in full working condition with 13 rollers. Please make me an offer. Prefer to sell face to face, close to Portland OR.
971-226-3334
call or text Anytime.
---
FOR TRADE:
Would like to obtain rollers 133 (Policeman's Chorus), 160 (Flowers That Bloom), 177 (He's Going to Marry Yum-Yum), 178 (I've Got Him on My List). Will trade or purchase (reasonable).
Contact
---
FOR TRADE:
Would like to trade Gem Roller Organ cob
#123 Home Sweet Home
for one of the following: #71 - Old Hundred, #149 - The Last Rose of Summer, #165 - The Minstrel Boy, #263 - Flow Gently Sweet Afton, #516 - Maggie Murphy's Home, #730 - Everlasting Arms, #1036 - Sweet Marie or #1038 - The Sidewalks of New York.
Contact
---
FOR SALE:
Musical Casket organette with 4 rolls of music, $750.00.
Contact
---



​WANTED:

Looking to purchase a 18 1/2" Mira disc music box console. Must be complete and not missing parts but can be in unrestored condition. If you think your ready to sell feel free to contact me at:

918 294 8482
---
WANTED:
Reasonably priced 32 note Grand Roller Organ & cobs.
Contact
or 845-224-6355
---
FOR SALE:
All original Celestina organette with 9 original music rolls. In very good conditon, works great!
Contact
for price. Click on photo's for enlarged views.
---
WANTED: Original or repro rolls for Regina Sublima. Contact Daniel @ 918-294-8482 (6/2/17)
---
---
---
FOR SALE:
Organette's – Ariston 36-note; others coming through all the time, please ask. Organette and Organ rolls, discs, 100 Cobs, many types in stock. I also have most of Ed Schmidt's NEW organette music in stock here.
Disc Musical Box Pediment 19/20 inch Upright Polyphon and Symphonion etc.; table-top Polyphon 11 inch – single and double-comb; Rare Perfection 10 inch; Coin-Slot 1d Polyphon; Symphonion 25 inch 1d in the slot – two friends have these to sell; Symphonion 6 inch center drive; Orphenion 10 inch. Cylinder Musical Boxes – 5 with small cylinder and some with 3 Bells; Organette's – Ariston, [choice of 2 models 24 and 36-note]; Spirally pinned barrel for 36-note Faventia; Many instruments on behalf of MBSGB members such as Aeolian Orchestrelle's x 8; Aeolian 46-note; Player Piano Grand and Upright; Barrel Piano Orchestrion; Church Barrel Organ 9ft tall, Barrel Piano. Over 2,000 Musical Box Discs from 4 inch to 28 inch, Disc Storage bags, Rolls for Pianola Duo-Art, Ampico, 88 and 65 note, Recordings on CD, Books etc. All items listed and available by e-mail with photos on request. Personal visits welcome by prior appointment.


www.mechanical-music.co.uk

England / UK but ship world-wide. (1/5/17)
WANTED:
Chordephon; Gem Roller Organ; Celestina; Seraphone; Double-Reed Ariel Organette; Polyphon 6 inch, Polyphon 8 inch; Polyphon 1d in the slot 11 or 15 inch; Mira disc box 12, 15 or 18 inch size; Monopol 9 1/2 inch; Upright Britannia Smokers Cabinet. Music for Herophon Organette. Most clean Musical Box Discs also bought.
​Contact: Kevin_mcelhone@btinternet.com (12/26/16)
---
WANTED: Capital Cuff Music Box - Can be either A, B, or C. Would prefer un-restored condition but anything considered. Phone calls preferred.
Daniel
918-294-8482
or Contact

​Click on the photo to enlarge image
---
FOR SALE:
Over 40 organette's for sale, majority are restored or in excellent original condition! No two alike with several rare models. Email me and I will send you a video and list of prices.
Contact: Mike Perry,





perrym43@yahoo.com





740-389-6214 (4/8/16)